Coming from a humble and unique beginning!
In 1919 the Italian artist and designer Thayaht created the first jumpsuit. It was originally designed to be worn by parachuters and sky divers! Quite literally a suit for Jumping!!!
But also desired among race car drivers and aviators. The design may have been simple, but the jumpsuit proved revolutionary and liberating. Pilot Charles Lindbergh completed the world's first solo transatlantic flight wearing one and Neil Armstrong landed on the moon in his.
WE CAN DO IT!!!
Katharine Hepburn gave the jumpsuit a touch of Hollywood glamour when she wore a monogrammed silk one-piece in the 1937 film Stage Door. Five years later Vera Maxwell designed a jumpsuit worn by millions of 'riveting Rosies'. The 'You Can Do It!' posters of Rosie the Riveter in her one-piece and polka dot headband have become an iconic cultural reference and symbol of empowered women.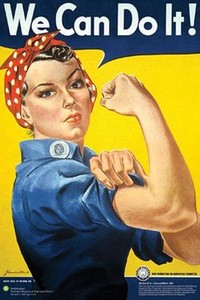 Forwarding to the future and we have famous stars and actors such as Rihanna and Jennifer Lopez dressing in jumpsuits, making them a must-have item and a stylish & trendy new way of dressing.
We have put together five Jumpsuits to elevate your 'You Can Do it' look to bring you to new highs and giving you a new fresh look, suitable for the office, weddings, elegant birthday parties and any other occasion that comes along the way.
Live boldly. Laugh Loudly. Love Truly.
Play as often as you can
Work as smart as you are able.
Share your heart as deeply as you can reach.
– Mary Anne Radmacher